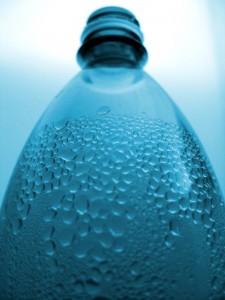 A chemical used in the production of polycarbonate plastics, bisphenol A (BPA), is raising concern over its effects in fetuses and children,  according to a draft report from the NIH.  The report, from the National Toxicology Program, concludes that BPA presents "some concern" that exposure of fetuses and children "can cause changes in behavior and the brain, prostate gland, mammary gland, and the age at which females attain puberty." The report cites "negligible concern" that BPA exposure leads to birth defects.  Polycarbonate plastics are used in, among other things, bottles for water and infant formula or breast milk. The draft report says that infants and children have the highest intakes of BPA in the population.  The Canadian government may declare the compound toxic as early as this week, an anonymous source told the New York Times.
Dr. Osborne's Comment…
Another example of how we over expose ourselves and our children to compounds that have damaging health effects.  In the last issue, we discussed diacetyl in popcorn as a compound in artificial butters that can contribute to lung disease.  This however, is a much greater problem, as we are surrounded by polycarbonate plastics.  More than 6 billion tons are put out each year.  They are used in storage and drinking containers as well as a number of polymers and resins used in industrial processing.  I find it alarming that baby bottles and food containers contain BPA as this chemical is a known estrogen mimicker.  Why is this dangerous?  Estrogen can bring about long term hormonal changes.  BPA has been shown to contribute to abnormal behaviour and hyperactivity in children, brain damage, abnormal sexual behaviour, early puberty, and reproductive abnormalities.
Protect yourself:
Try to avoid exposure by eliminating the use of these plastics.
Support your body's ability to protect and detoxify itself.  Exercise regularly to stimulate sweating as well as the flow of blood and lymph fluids to help your body rid itself of toxins on a regular basis.
Breathe!  Proper breathing can help increase oxygen into your tissues supporting your overall metabolism.
Eat a diet rich in healthy meats, nuts, seeds, beans, fresh fruits and vegetables and devoid of processed dairy, sugar, and grain based foods.
Maintain adequate hydration.  Water is a catalyst for your body's ability to eliminate toxic substances.