Spinal Decompression
Low back surgery should not be considered until you have found out if mechanized spinal decompression is right for your condition.
"As the success rate is so high, physicians should have an ethical obligation to try decompression
therapy with their patients prior to even contemplating surgery."
Dr. Thomas D. Meek, MD, Neurosurgeon, Odessa, TX.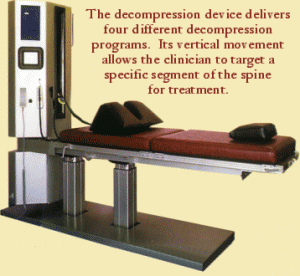 The ABS DRS (decompression, reduction, stabilization) spinal decompression system is an FDA approved mechanized table developed by a team of engineers and doctors including a renowned neurosurgeon. The technology is highly effective for the non-surgical treatment of low back pain caused by degenerative discs (herniations), sciatica, and facet syndrome and other common conditions of the low back.  Each patient is fitted with a harness and placed on the decompression table. Supports are provided for the knees and legs to ensure comfort.  The table's computer is programmed by the doctor or technician to adjust to the patient's specifications and condition. To aid in the healing and relaxation, the ABS spinal decompression system is equipped with headphones that play relaxing music.
How does the treatment work?
The decompression therapy is designed to create a negative pressure within the disk. This negative pressure retracts the herniation and increases blood, oxygen, and nutrients into the damaged area thus speeding up the healing process. Treatment typically consists of 20 sessions over a 6 week period. Each session lasts approximately 30-45 minutes. Most patients experience some relief within the first 5 treatments. In recent clinical studies, over 86% of patients experienced relief from their back pain after undergoing treatment with DRS (decompression, reduction, and stabilization) technology.  No relapses were reported up to one year after treatment.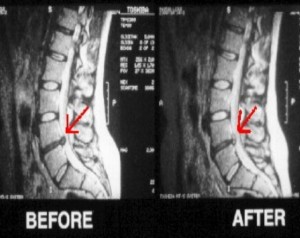 Below are several research articles demonstrating the benefits of Decompression Therapy:
1. Gose EE, Naguszewski WK, Naguszewski RN. Vertebral Axial Decompression Therapy
for Pain Associated with Herniated or Degenerated Discs of Facet Syndrome: An Outcome
Study. Neurol Res 1998;20:186-90.
2. Gionis T, Groteke E. Spinal Decompression. Orthopedic Technology Review
2003;5(6).
3. Ramos G, Martin W. Effects of Vertebral Axial Decompression on Intradiscal Pressure.
J Neurosurg 1994; 81:350-53.
4. Tilaro F, Miskovich. The Effects of Vertebral Axial Decompression on Sensory Nerve
Dysfunction. Canadian Journal of Clinical Medicine 1999;6(1):1-7.
5. Shealy CN, Borgmeyer V. Emerging Technologies: Preliminary Findings
Decompression, Reduction, and Stabilization of the Lumbar Spine: A Cost Effective
Treatment for Lumbosacral Pain. AJPM 1997;7(2):63-65.
6. Eyerman EL. MRI Evidence of Nonsurgical, Mechanical Reduction, Rehydration and
Repair of the Herniated Lumbar Disc. Journal of Neuroimaging 1998;8(2).