Whole Body Vibration
Dr. Osborne Takes Technological Advances Seriously:
Town Center Wellness is happy to offer this technologically advanced form of rehab.  Whole body vibration may be prescribed to you during your treatment plan to help improve muscle strength, tone, coordination and more.  This type of treatment has also been used for weight loss and building bone mass.  The therapy is so effective and beneficial that many of our patients decide to buy a machine once their treatment in our office is finished. Whole body vibration has been very well researched for a number of conditions and uses.
General Research:
Human Growth Hormone
Kalu, D.N., et al. "How Cancellous and Cortical Bones Adapt to Loading and Growth Hormone."

Journal of Musculoskeletal and Neuronal Interactions

, 2000, Vol. 1, No. 1, pg. 19-23.
Osteoporosis
Medical Conditions and Rehabilitation
Parkinson's Disease
Haas, Christian T., Stephan Turbanski, Kirn Kessler and Dietmar Schmidtbleicher. "The effects of random whole-body-vibration on motor symptoms in Parkinson's disease."

NeuroRehabilitation

21, 2006: 29–36.
Turbanski S, Haas CT, Schmidtbleicher D, Friedrich A, Duisberg P."Effects of random whole-body vibration on postural control in Parkinson's disease."

Research in Sports Medicine

, 2005, Jul – Sep, Vol. 13, No. 3, pg. 243-56.
Fitness
Clinical Trials
Whole Body Vibration in the News
Who Else Wants to Lose Weight Safely and Effectively in Just Minutes a Day?
Achieving a slim, tone, and healthy body is everyone's goal.  Fad and starvation diets are dangerous and don't work.  Most exercise programs are equally ineffective because people don't stick to them over time.  A new technology offers an effective tool to help achieve your fitness goals in 10 minutes a day!
Here's why: The Noblerex K1 Platinum Whole Body Vibration Machine helps reduce fat from your body and tightens muscle groups without any harmful effects such as muscle injuries.  The idea for the Noblerex K1 Machine and WBV (Whole Body Vibration) all started when Russian scientists needed a way to keep their cosmonauts in shape in a zero gravity environment.  With continuous developments in WBV the vibration machine has been proven to be highly beneficial for people of all ages and virtually most health conditions.
Depending upon your needs, be it weight loss or athletic development, a simple switch allows you to gear your Noblerex K1 Whole Body Vibration workout to meet your needs.
Look at the benefits the Noblerex K1 brings you:
Improves lymph circulation and boosts the immune system
Reduces stiffness and back pains
Enhances and strengthens your posture
Improves coordination and balance
Accelerates your metabolic rate, reduces cellulite and burns fat
Improves blood circulation and increases blood oxygenation
Increases muscle flexibility and strength
Boosts levels of natural HGH and Testosterone
Combats osteoporosis and helps to build new healthy bone
Improves muscle tone and enhances athletic performance
Offers hundreds of different exercises in a very small space
As there are two technologies available in the Whole Body Vibration Exercise field, it is important to know which one is the best for your body. They are the Triangle Oscillation System (T.O.S.) and the Triplanar vibration (powerplate, etc).  The Triagular Oscillation System (T.O.S.) used in the Noblerex K1 Platinum is great for body toning and maintaining exercise health.  The Triangle Oscillation System in the K1 Whole Body Vibration vibrates at the proper frequency with the use of lift mechanism.  This Whole Body Vibration helps nerves communicate with muscles more effectively thus increasing muscular tone and strength while also enhancing coordination.
Warning: Beware of Cheap Knock-offs of the Noblerex K1
There are many whole body vibration machines on the market, some good, some bad and some just plain ugly. I have personally tried over 20 different models and the machines below I believe are the ones to avoid at all costs. These machines are very cheaply made, have weak motors and weak amplitudes and have a choppy or awkward motion. In the case of the vibeplate and soloflex, they are just platforms with a motor underneath and not really whole body vibration at all. So buyer beware.
For people who are interested in owning a Whole Body Exercise machine, it can get confusing trying to figure out which machine to buy. In fact there are some products on the market that don't work as claimed.
Below is a list of less effective machines.   At first glance you'll notice these machines tend to be cheaper and claim the same benefits as many of the more expensive machines.   But don't be fooled.  These machines are very cheaply made, have weak motors and weak amplitudes and have a choppy or awkward motion.  In the case of the vibeplate and soloflex, they are just platforms with an undermount motor and not really whole body vibration at all.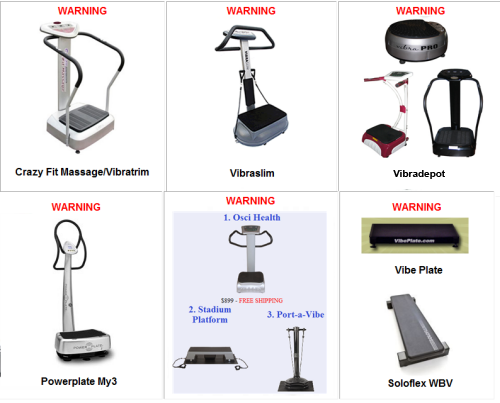 During my investigation of this new technology, I tested several whole body vibration machines side by side with the Noblerex K1 and found a night and day difference. The Noblerex K1 has a stronger and smoother vibration, and is built with a stronger commercial grade durable motor (so it will last longer).
Unlike the cheap brands above, the noblerex k1 is commercially rated for up to 8 hours a day and up to 330 pounds of weight.